Hydro Dipping
At Bodytech Automotive, we offer hundreds of options in colour and design enhancements for the automotive enthusiast including car restoration projects, show cars, hot rods and dragsters, all the way down to simple upgrades on the family car. We also offer hydro dipping on motorcycle parts.
With the latest in Hydro-Dipping technology and extraordinary design options for interior and exterior parts, we can bring to life and protect engine components, intake manifolds, transmission housings and more. Matte, semi gloss, high gloss, and show finishes can be applied to wood grains, carbon fibers, camouflages, and many other design options.
Hydro Dipping Motorcycle Parts
Stand out from the crowd and make your motorcycle differ from the rest with professional hydrographics! By using our hydro-dipping services, we can deliver you a bespoke motorcycle that will have all eyes on you. From custom graphics to bold patterns, we can apply hydrographics to many motorcycle parts including:
Fenders
Fuel Tank
Accessories
Bike Frame
Wheel Rim
Plus More
Enquire with us to learn more about our hydro dipping services for motorcycle parts.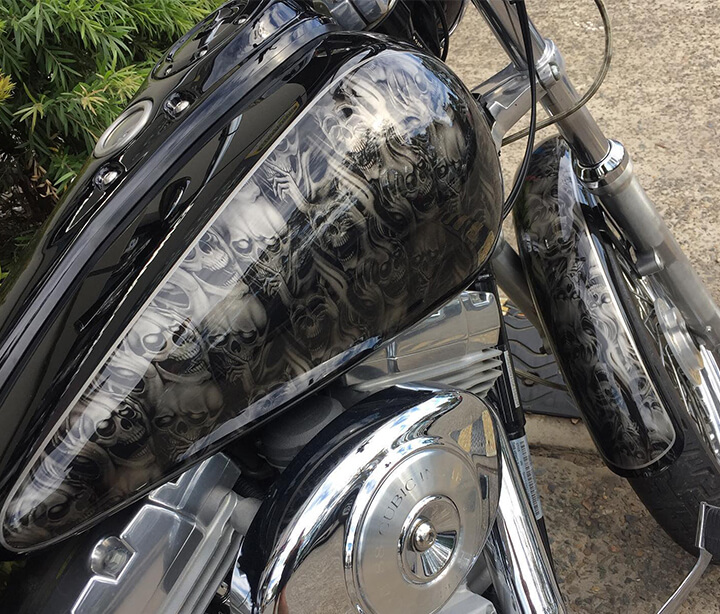 CUSTOMER STORIES
Rob

Thanks Team and Peter on the outstanding hydro work on my Monaro engine covers. You provide amazing results every time by going that bit extra.
Matt

Couldn't be happier the lads did a great job on my pride and joy!!! Customer service was outstanding aswell!!
Tim

Awesome place. Very quick and great service and a high quality of workmanship. Would highly recommended.
Karen

Outstanding friendly service, great workmanship. My car came back like brand new; the guys went out of their way to make the whole process as easy as possible Thanks guys.